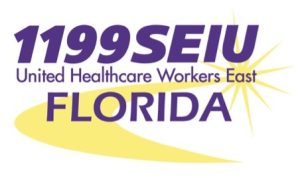 "The members of 1199SEIU Florida approve and applaud the Biden Administration's new proposed standards to better ensure quality care and to protect senior patients and their caregivers in nursing homes across the nation.
The new staffing requirements, the first ever on a national scale, are significant and positive steps to prioritize and improve the well-being of patients and caregivers. We appreciate that the administration requested the input of frontline staff, and we are proud of our members who shared their stories, experiences and expertise to push for these enhancements.
The new requirements will be especially meaningful and an improvement in Florida, where the governor, GOP legislature and nursing home industry — which takes in billions of our tax dollars — have been dangerously weakening regulations and worsening a critical staffing, retention and care crisis.  The national standards, most importantly, will result in Florida seniors receiving more direct care hours per day by trained staff, and will help reduce the industry's profit-driven pattern of short-staffing that puts patients and caregivers at risk.
Our members will continue to fight for even better conditions and a faster implementation of the new national standards. While paid low wages in often back-breaking jobs, these workers are dedicated to provide the very best care to our parents, grandparents and other elderly loved ones in nursing homes across the state.
We look forward to working further with leaders like President Biden who has proven to truly put the needs of the people first, and hope we can convince or elect Florida officials who will do the same.  Patients, caregivers, their families and all Floridians deserve this."
Margarette Nerette is Florida Vice President of Long-term Care for 1199SEIU United Healthcare Workers East, the largest union of healthcare workers in the state.
Media contact:
Ed Gilhuly
305-807-6906/egilhuly@leftcom.com