Long-term care workers across Florida who have been on the frontlines of the pandemic are uniting through their union, 1199SEIU United Healthcare Workers East, to call on government officials and nursing home owners to better protect and fully fund nursing homes. Through the "We Are Essential, Treat Us Like Heroes" campaign, caregivers are putting a spotlight on these and other critical issues that put nursing home residents and workers at risk including unsafe staffing and high turnover due to low wages.
The average hourly wage for a certified nursing assistant, CNA, is about $12 per hour. That's about $25,000 per year – less than the federal poverty level for a family of four.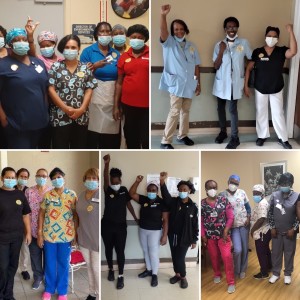 "It's unconscionable that nursing home workers who put themselves at risk every day during this pandemic to care for our loved ones don't make enough to provide for their own families," said Roxey Nelson, Vice President and Director of Politics and Strategic Campaigns at 1199SEIU, the largest healthcare union in Florida. "This has a ripple effect because low wages lead to high turnover which impacts staffing levels and ultimately the quality of care."
A new law allowing personal care attendants (PCAs) to try to fill the void could make matters worse says Nelson because PCAs have inadequate training and they can't perform all of the critical tasks that a CNA does but PCAs still count toward the 2.5 staffing standard. "Wouldn't you prefer experienced staff caring for your grandmother or parent," asked Nelson?
Short staffing and low wages were widespread problems in Florida nursing homes long before the pandemic. The health crisis exposed just how critical these issues are and the impact they have on the lives of residents and workers. The COVID-19 pandemic also revealed how committed, essential and heroic nursing home workers have been through it all, answering the call of duty, despite the risk of exposure to this life-threatening virus.
"The name of our campaign, "We Are Essential, Treat Us Like Heroes", is fitting because these dedicated and brave caregivers deserve both accolades and a living wage so they can take care of their families," explained Nelson.  "As these workers prepare to bargain new contracts this year, we're calling on their employers to invest in their employees because quality care starts with caregivers."